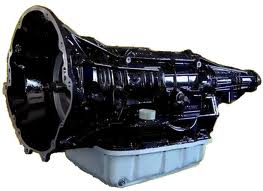 Dodge Durango was created in 1998 by Chrysler. The engine technology that was used inside mimicked the Jeep Cherokee. The PowerTech 4.7L V8 engine was one of the most successful engines of the mid 1990s. This was the engine selected for the Durango. The transmission that was used at this time was the 45RFE. This had previously been used inside Jeep vehicles. Dodge knew that customers had faith in this transmission. You'll find that we sell Dodge Durango 45RFE transmissions for great online prices. You don't have to worry about paying for shipping here at www.GotTransmissions.com. We take care of that too.
The 45RFE was not a new transmission when it was used in the Durango. The automatic 4-speed transmission was most often used with the 4.7L. It was used successfully in the Cherokee, Dakota, Liberty and the Ram series too. It was later upgraded from 4-speed to a 5-speed version to take advantage of the extra torque that was offered. What our company does is we find used transmissions for sale. We let our buyers checkout the product and we buy them after we've reviewed them. We take them into our transmission shop and do one of two things. We rebuild or we sell as used.
Dodge Durango 45RFE Rebuilt Transmissions
We do a lot of things right that many companies get wrong. The first is the way that our pricing is handled. We sell at discount prices. We do this to help people reduce the cost of owning our transmissions. We could easily mark our inventory up two times for what we sell it for online. We don't do this because there are plenty of mechanics, junkyards and body shops that depend on our low prices. We have our own inventory and we don't outsource other people's inventory. When you make a purchase here, you're dealing with one company and our huge warehouse of transmissions for sale.
We believe in Chrysler products and continue to support transmissions for the Durango. One thing that we do differently is we search our network of suppliers if customers ask us to do it. We find transmissions from a variety of sources. Something not found in our current Dodge inventory could be found through our supply companies. We do this work at zero cost to our customers. We want to make everyone happy with our transmission inventory. We ship these transmissions without charge in the U.S. This is like getting a bonus. You need a used Dodge transmission and we're the source that will provide it to you. We use a system of price quotes that deliver our low transmission pricing to you.
Dodge Durango 45RFE Rebuilt Transmissions Price Quotes
You can start obtaining your price quote by calling 1-866-320-1182. This is our quote line. We pay for the call and will happily search our inventory for you. You get to speak with our transmission experts. You can get online quotes by using our transmission quote form on this website. It's simple to use and is available 24/7 right on our website. Contact us now.