When Ford introduced the ZF 5 speed manual transmission to their line up of trucks in the '80s, it started an evolution of light duty truck transmissions towards 5 forward speeds. Until then, except for the huge Semi's, 4 forward speeds were normal.
This ZF transmission has an aluminum case and designed with heady duty purposes in mind. The other day I fixed a ZF manual transmission for friend. It came out of a 1989 F-250 4 wheel diesel drive pick up, and the only thing wrong was the front bearing retainer had a groove worn in it. I took a picture of the retainer so can see what one looks like.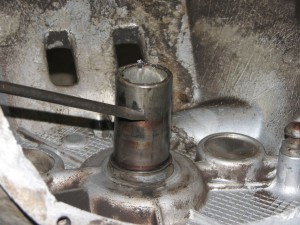 Unfortunately the transmission has to be disassembled to replace the front bearing retainer. While it was apart I also took a picture of the gear set resting in the back case portion.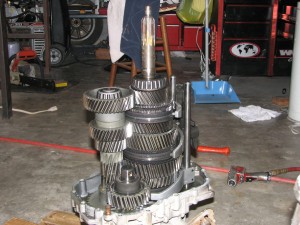 This is a heavy transmission, it takes 2 good men or a transmission jack to lift it on to the rebuilding bench. Any transmissions larger than this I usually don't work on. I have rebuilt plenty of them over many years and believe me, they are 'finger smashers', but once you get by the pain of smashing a few fingers, it becomes evident at what heavy duty gears look like and that it was designed for doing 'business'. Most of the ones that came into my shop needed major repairs that cost a small fortune.
I got lucky and someone bought my shop three and a half years ago, so this is the first one I've fixed in a while. I enjoy doing transmission repairs. The problem is I won't be able to rebuild your ZF transmission or any other transmissions anymore. So this is my advise.
As a person who owned and operated a quality transmission shop for over 25 years and was an active rebuilder until the last year. So, if anyone has an eye for really top grade rebuilt transmission, I do. I ran a tight and clean shop, my employees were adults and enjoyed the environment. To say the least, we were the best shop in the area, maybe in the state. That was a fact, I'm confident of it.
Now that I'm on the receiving side of the bill, not the guy collecting the money, I do a lot of homework before I take my cars in to get repaired. For a guy who mechanized all his life, any other treatment than what I gave to my customers won't work for me. That's why I fix my own cars at home now. And a few others, that is how I got the pictures.
As a transmission man, so to speak, I did my footwork on who I can buy a rebuilt transmission from that has a great warranty and I fell comfortable with. GotTransmissions.com has proven to me that they provide a great product, but the experts are friendly and patient and the product lives up to it's billing every time. In essence, it would be like doing business with myself! Enjoy. 866-320-1182