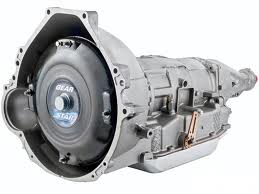 Ford relied upon its C3 transmission base until 1989 when it was retired. The development of digital controls helped Ford to upgrade the technologies used in its transmission platform. Multiple developments were made to the C3 base and four, five and six speed editions were popular. The 1997 introduction of the E-Series 5R44 helped many vehicles to benefit. What you'll find here at this transmission website is low prices and a quality Ford 5R44E transmission for sale. The Got Transmissions commitment to customer service quality and parts distribution has built the reputation found here.
Ford used the four-cylinder edition of the 5R44E transmission in the Ranger, Mazda B-Series and the Aerostar as test market developments. These vehicles immediately benefited from the editions that were produced. The preowned units that are found in our company warehouse offer immediate replacements. Our staff of buyers help maintain quality levels. Purchasing gearboxes from trusted distribution companies has allowed our inventory to reach levels that many auction sellers cannot reach.
Ford 5R44E Transmission for Sale Plus a Free Warranty
Coverage that warranties provide can vary. We know that. It's difficult to find coverage through some sellers online. The types of distributors working with us ensure quality. This allows us to warranty each part. The used units generally receive up to three years of protection. This is a good amount of coverage. Each unit is inspected and verified before sale. These units are covered for premature parts breakdown and other instances. Attaching a warranty helps build our customer loyalty. We ship used Ford transmissions worldwide to a range of buyers.
The issuance of a warranty is not the only incentive here. All customers get access to the online resources on this website. There are literally hundreds of pages for transmissions here. Locating any manual or automatic transmission is possible. Each unit is described accurately. The Ford inventory as well as other automakers are represented here. What matters to customers is quality control. We know what is good. We know what is bad. Our team verifies mileage and gear ratios before we ship any unit. The free shipping provided is an additional incentive. Buying from Got Transmissions is just about as easy as it gets.
Ford 5R44E Transmission for Sale Discounted Online
Discounts are not just advertised here. Discounts are provided with all sales. The quote system here is unique. What it does is supplies pricing at the touch of a button. Customers tired of phone calls use this system. We do offer a toll-free line as an alternative quote system. These dual methods allow customers to choose how to receive a price. Each method is fast and simple to use. Getting a preowned Ford transmission quote is never a problem here. Let our team help you today. Use the expedited quote system of your choice now.