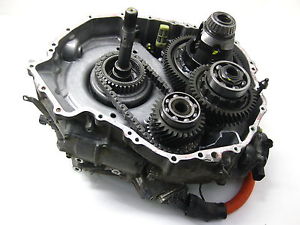 The Prius from Toyota features what is known as a Toyota Hybrid System gearbox. This is offered in first and second generation series. The technology in the CVT transmission was used to form the basis of the Prius gearbox. Here you'll find the Toyota Prius transmission as a preowned unit for a discounted price. This means no searching online to find the approximate gearbox you need.
The 1997 launch of the Prius helped set the future of this vehicle in the U.S. market. The three years of production in Japan helped this vehicle to be introduced by Toyota in the U.S. market. The compact and mid-size editions of this vehicle each use the THS series transmissions. The hybrid nature of this vehicle has helped to popularize the technology of the transmission. The affordable prices that we're now featuring make it easy to buy a replacement Toyota transmission.
Cars with a Toyota Hybrid System Gearbox
There are multiple vehicles that utilize the hybrid technologies that are found in the THS series. The Prius, Lexus RX, CT, Yaris, Altima and Highlander. Many of the patents that exist in this system have been licensed to other automakers over the past decade. This 21st century technology is part of the reason for growth by Toyota in this decade. You can rest assured that the preowned unit that you'll buy here is top quality.
Each distributor supplying our company with used Toyota hybrid transmissions is a top company. This means that you won't worry about getting a bad auction gearbox. There are plenty of automaker units that are sold from online dealers that are not up to par with our units for sale. The used gearboxes for Toyota and other automakers you'll find here offer more than a monetary good value. Each Prius used transmission you'll find here is already validated for quality.
Used Toyota Prius Transmission Quotes
Quotes are what can help the average person discover our prices easier. We've moved into a new quote system this year. You came here to find a reliable Toyota transmission resource. We've provided that. What we can also provide is an immediate online price. Use our connected database right here online. This is what empowers you to locate the price you'll pay to own a replacement gearbox. Exact costs are delivered immediately online. You won't have to call by phone unless you want to. Get your preowned transmission quote for your Toyota Prius right now.